Iqaluit Diary - Preparation
Preparation
There were three issues: Clothing, Packing, and Paperwork:

Clothing

The two important words are "layering" and "polypropylene".

When it is -27 C with a windchill of -42 C no one layer of clothing is enough by itself. You need several layers, and the bottom layer should be long underwear made of a synthetic fabric such as polypropylene, which wicks moisture away ffrom your body, and is warm even when wet. Above that you can wear normal clothes, such as jeans, a shirt and pullover. Then you need a windproof outer layer, such as a ski jacket and wind proof pants. You need good boots (such as lined Sorel boots, or hiking boots with thick socks.) In town, there is little snow in January, and it is hard packed, so high boots are not needed. I used two pairs of gloves, a very thin pair which were adequate for short trips, and allowed me to use my camera with gloves on, and a heavy pair of mitts for longer trips. Finally, you need headgear. I used a balaclava and a scarf, and had a hood on my ski jacket.

I found that my chest stayed warm, or even got too hot. My hands and feet were usually comfortable. My legs got cold if I omitted either the underwear or the overtrousers on very cold windy days. The hardest part to keep warm were my nose and cheeks. If I was going again, I'd try to get one of those ski mask balaclavas which cover everything but the eyes and nose, as used by bankrobbers! Although the local stores had an excellent range of boots, jackets, gloves, and hats, (at reasonable prices) it took me a while to find this item in Iqaluit (at the Arctic Survival Store).
Packing
As well as clothes, I took a lot of books and reading material. The hotel had a TV with VCR, and my laptop included a DVD player. Both tapes and DVDs are easy to rent in town. Symaptico has a local number in Iqaluit (979 1717), so Internet access was easy, but slow. There is no high speed Internet access in Iqaluit.
I packed a digital camera, a Fjui FinePix 2600, and a Pentax SLR. Neither caused any problems. The drugstore in the Astro Hills complex (attached to the Frobisher Inn) develops film. I also brought binoculars, which were useful.
Returning residents often bring food, soap, detergent, and alcohol, with them from the south. Fresh fruit is available, but expensive.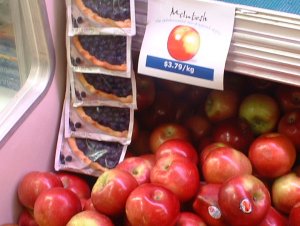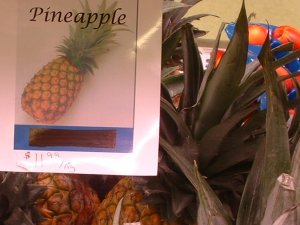 Apples at $3.79/kg and Pineapples at $11.99/kg
Alcohol is available with meals in restaurants in Iqaluit, but there is no beer or wine store. It is forbidden to trade alcohol for native art. Locals have to buy there entire year's supply of beer in the annual summer sea lift!
Most items are available in Iqaluit. For example, there is a Radio Shack on the North Mart which has a fair range of computer equipment.
Paperwork
You might think that for an anesthestist already working in Toronto, it would be easy to get the paperwork to work in Nunavut, but in fact getting a licence to work there was a long and difficult process, requiring proof of every phase of my medical training. I had to have a lawyer certify a copy of my original medical degree. Once I arrived, I had to fill out another form for hospital privileges, and a contract with the Nunavut Department of Health and Social Security. I will have to fill out yet another form to get paid!
The flights and accomodation were all sorted out by the hospital. There are two direct flights most days from Ottawa to Iqaluit, but making the connections to get between Toronto and Iqaluit in one day can be a little difficult.
The hospital usually provides accomodation in an apartment for visiting doctors, but they were all in use, so I was put up in a suite at the Frobisher Inn, the hotel nearest to the hospital. I had a fridge, toaster, kettle and microwave, which was useful as a pasta entree in the hotel dining room was $25, (so you might as well eat the caribou, for $32, if it is available).
NEXT: Baffin Hospital