Iqaluit Diary
January 20th, 2003
5:30 - Woke up, got dressed, had breakfast, said my goodbyes to my family.
6:10 - In cab on way to Toronto airport. Arrived 6:40, checked in and waited to board the 8:10 Air Canada flight for Ottawa, the first leg of my trip to Iqaluit.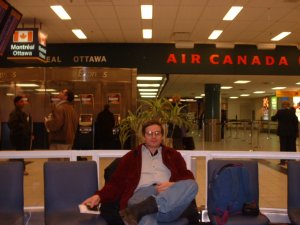 8:45 - Still on the runway in Toronto. Thirty-five minutes late taking off, as only one runway is in use for some reason. As I only had 35 mins between my scheduled arrival in Ottawa and my 9:45 First Air flight to Iqaluit, this is bad. Start making plans for an unexpected day in Ottawa.
8:50 - Airborne
9:35 - Approaching Ottawa airport. The flight attendant kindly ensures I will be the first person to leave the plane.
9:42 - Arrive at the First Air check in 3 minutes before the flight is scheduled to take off. They were not expecting me, the doors are closed, and they will not let me on.
10:00 - Finally get served at the Air Canada booth at Ottawa airport. There is a 10:40 Canadian North flight. They can get me on it. Out of the corner of my eye I see a porter with a cart and my luggage on it - a conspicuous combination of a dark green Air Canada suitcase and a large bright red backpack. He is asking his superiors what to do with it, so I ask him to give it to me. Much releaved to have luggage and a ticket, I head to the Canadian North check in, where the attendant doubts the validity of my ticket, which now has a little sticker over the original flight plan. Eventually she gets confirmation that it is OK (and Canadian North will be being paid an appropriate amount to transport me), so she takes my bags and gives me a boarding card. I rush back to the Canadian North check in to find they have not started to board the plane.
10:30 - A few minutes to kill before boarding, at the far end of the departure lounge. Who else is flying to Iqaluit?
Suddenly I noticed a young Inuit mother in traditional dress, with something in a pouch over her shoulder.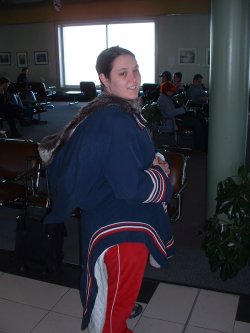 She had a baby on her back! This is called an amauti, and is a common sight in Iqaluit.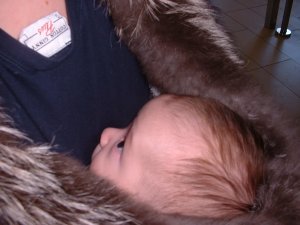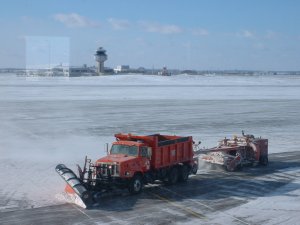 They had to plough the runways for us.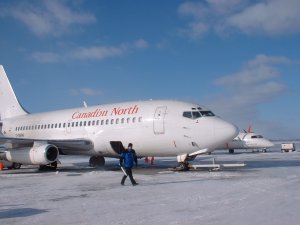 We had to walk to the plane.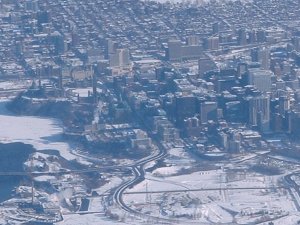 View of Ottawa from the plane - the parliament buildings are just visible at the right.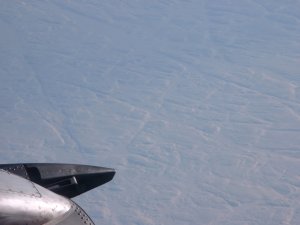 Nothing much to see as we flew over northern Quebec.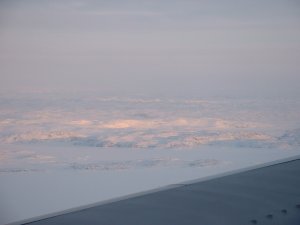 We flew over Baffin Strait, across the Meta Incognita Peninsula, and over Frobisher Bay.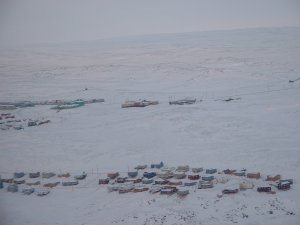 The edge of the town of Iqaluit appeared.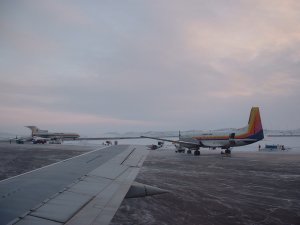 Arrival at the airport.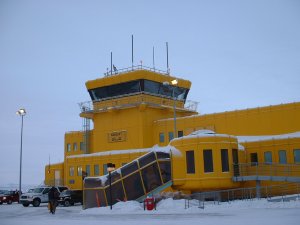 We had to walk into the terminal.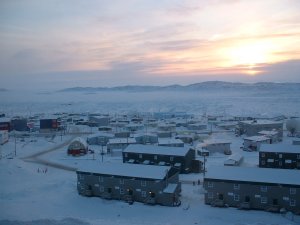 Settled in to the very comfy Frobisher Inn. This is the view from my fourth floor window.
All for now, more later.......