Iqaluit Diary

January 20th - February 2nd 2003
From January 20th to February 2nd 2003 I had the opportunity to work as a locum (temporary) anesthetist at Baffin Regional Hospital, in Iqaluit (formerly Frobisher Bay) in Nunavut.
This is a diary of that trip, intended mainly for my friends and family, but also for anyone else interested in a doctor's impressions of the Canadian Arctic in winter.
Background

Iqaluit is the capital city of the new Canadian territory of Nunavut, on Baffin Island. Nunavut has a population of about 30,000, spread out over almost 2 million square kilometres. The area has a population density of one person per 100 sq kms. Iqaluit has a population of 6,200, yet is the only city for thousands of miles in any direction. There are no roads in or out of Iqaluit. It is about 3.5 flying hours north of Ottawa, the capital of Canada.

The city used to be called Frobisher Bay, after Sir Martin Frobisher, who arrived in 1576 and left with tonnes of ore. He thought it contained gold, but it did not.
In the early 19th century it was a trading centre for Inuit and whalers. In the early 1900s missionaries arrived, and the Hudson's Bay Company started fur trading in the area.
In 1942 the US Air Force set up a base for refuelling, with the help of local Inuit, some of whom settled in the area. An American radar site in 1951 added to the local economy, but only 1,200 people lived in the area in 1955. Over the next few years, the Government set up schools, offices, an RCMP detachment. Two banks and a hotel set up business.
In 1995 Iqaluit was selected as the centre for the new Government of Nunavut, which was established in 1999. In recent years the population has boomed to 6,200.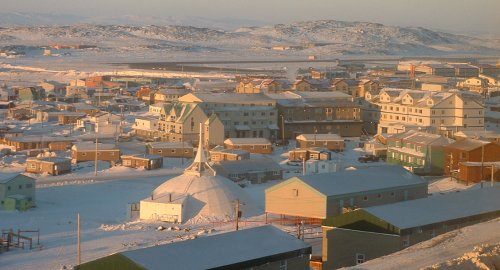 Downtown, with St Jude's Anglican Church
The weather plays an enormous role in life in Iqaluit. In late January, when I visited, the average daytime high was -22 C (but the low was only a couple of degees lower). Iqaluit is well below the arctic circle, so it never gets 24 hours of darkness. In late January it gets light about 8 am and dark about 3 pm.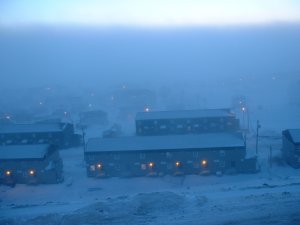 Morning snowstorm, about 8:00 am
What is the weather like in Iqaluit right now? Click here to find out!
Email: