PERSONAL STATEMENT from DR . JOHN OYSTON, FOUNDER OF "STOP SMOKING FOR SAFER SURGERY"
I am an anesthesiologist at The Scarborough Hospital, a large general community hospital in a suburb of Toronto, Canada.
I have been working as an anesthesiologist for almost thirty years, and I have always disliked giving anesthetics to smokers.
As soon as I find out that my patient is a smoker, I am alert for signs of heart or lung disease. I am concerned that the patient will probably have some chronic disease of the arteries which supply blood to the heart (CAD) and some chronic obstructive lung disease (COPD).
The anesthetic will often be less smooth than I would like, as smokers' airways are more likely to be irritated by the anesthetic gases. At the end of the case, it is often more difficult to get smokers to breathe for themselves. Smokers are more likely to have postoperative wound infections, and some operations are less likely to be successful in smokers.
Like most people, I prefer it when my days at work go smoothly. That means that I can spend the time when the OR is being cleaned between cases relaxing with the newspaper and a coffee, rather than in the recovery area with a patient who is not doing well, or talking to the intensivist about admitting my patient to the intensive care unit. When I meet the surgeon later in the week, I prefer to hear that our patient is recovering well and will be going home soon, not that he or she is being put on the emergency list for further surgery.
Unfortunately, patients who smoke are more likely to have problems in the recovery area, and more likely to be admitted to intensive care. They are less likely to do well, and more likely to need repeat surgery.
The scientific literature shows that it is possible to get patients to stop smoking before surgery, and that this has a dramatic difference to the rate of postoperative complications. In one study, the complication rate after joint replacement surgery was reduced to less than half by initiating a smoking cessation program six weeks before surgery.
Anesthesiologists are supposed to assess patients before surgery and advise how the patient can be optimized for surgery, but I think we could do a much better job of informing smokers of the risks of surgery and supporting them in their efforts to quit before their operations.
Most anesthesiologists look at smoking as a risk factor which cannot be changed. They may delay elective surgery to investigate a heart condition or to allow a patient to get over a cold, but they would not consider delaying surgery so the patient could stop smoking.
In 2006, I finally decided that it was time to do something. I set up the first "Stop Smoking for Safer Surgery" web site and began to work to try to get the message out to patients, to their families, and to their health care professionals, that smoking is a major risk factor for anesthesia and surgery. Patients need to be warned about the risk, and offered assistance to quit before elective surgery.
I am grateful for the assistance I have received from Ontario's Anesthesiologists, the Ontario Medical Association, the Canadian Anesthesiologists' Society, and Pfizer. I appreciate having had the opportunity to speak at the Ontario's Anesthesiologists' and Canadian Anesthesiologists' Society annual meetings, and to make a presentation to the Ottawa Model for Smoking Cessation's Annual Conference.
No anesthesiologist would give an anesthetic for elective surgery to a patient who has eaten recently, because of the risks involved. It is my hope that in the future, it will seem just as wrong to give an anesthetic to someone has smoked recently. All patients should be given the information, support time and opportunity to stop smoking before elective surgery. The benefits to them, and to the health care system, will be highly significant, especially if they quit for life.
If you know smokers who are planning to have surgery, please pass this message on to them: "Stopping smoking before your surgery makes the anesthetic safer, improves wound healing, and may even increase the chance of your surgery being a success."
Thank You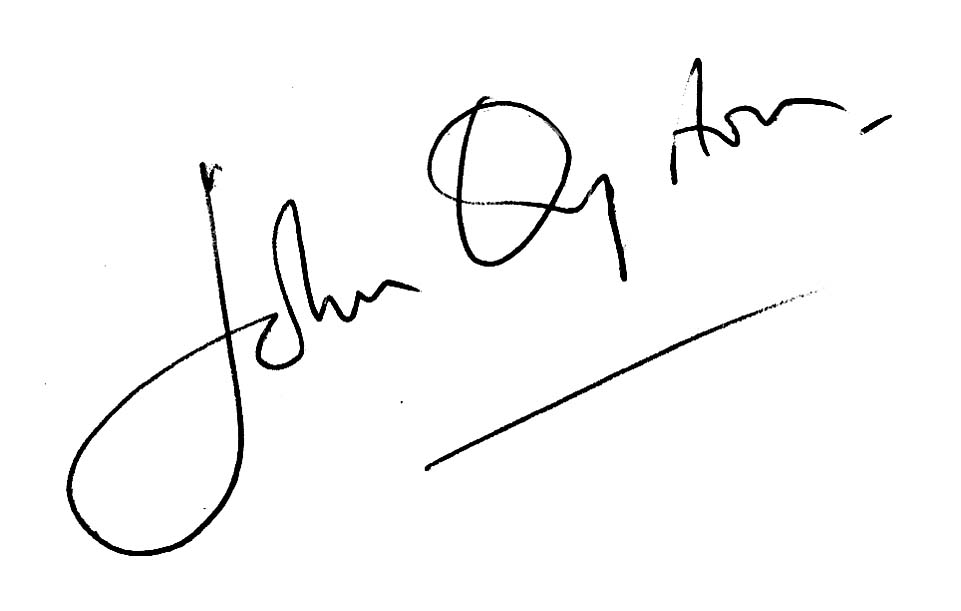 Dr. John Oyston MB FRCA