George Oyston, painter

There was a George Oyston, who painted watercolours of the English countryside.
George Oyston (1860 - 1937) - was born in North Shields, circa 1860, the son of an engineer, he painted in both oil and watercolour and specialised in landscapes, river scenes and genre subjects. It is recorded that he was living in North Shields in the 1880s where he practised as a professional artist in his native town sending many works for exhibition at the Berwick Club in Newcastle. His address in 1891 was in London. In 1897 he moved to Walton on Thames and Shepperton on Thames. He painted many views around the River Thames in Surrey as well as other landscapes in Surrey and Hampshire. He exhibited between 1891 and 1897 at the Royal Institute of Painters in Watercolour and the Royal Society of British Artists His work occasionally becomes available on eBay and other Internet auction Web sites. Please don't email me to ask how much your George Oyston painting is worth - I have no idea!
---
EBay was auctioning a painting by George Oyston. The seller wrote:

GEORGE OYSTON WORK FOUND IN BASEMENT!!!!!!!!!

HERE IS A BEAUTIFUL WATERCOLOR BY WELL LISTED GEORGE OYSTON. THIS MEASURES 28 X 21. ITS SIGNED LOWER RIGHT AND DATED 1920. THE WORK IS FABULOUS.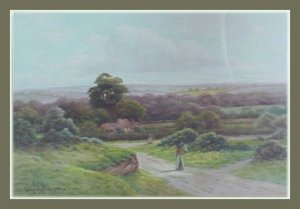 The bidding was up to $270 US when I gave up ..
---
In November 2001 I got an email from an Edward Walton, about two paintings they had for sale on December 11th 2001 at their auction house, www.waltonandwalton.co.uk. They kindly send pictures, and estimated that they would sell in the region £300-£350.
In July 2002 Mike Robinson wrote:
We have a watercolour by George Oyston signed in the left hand bottom corner by him. On the back it has written in pencil "Near Cobham Surrey". There is no date on the picture which measures ten inches by seven inches.
In the local Retford library we have found that he was a member of the Royal Society of British Artists and that one of his pictures was exhibited by them. He was also a member of the Royal Institute of Painters in Watercolours who exhibited one of his pictures also. He had a London address in 1891 and a Shepperton on Thames address in 1897. He exhibited between 1891 and 1897.
In 2008 this painting sold for 80 pounds on eBay: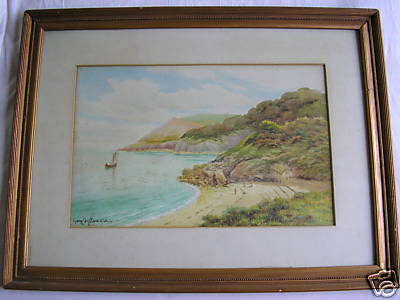 Description:
A very nice original watercolour painting depicting a West Country coastal scene with figures on the beach before a cottage and a small sailing boat out to sea. The painting is signed George Oyston,is dated 1920 and is in fair condition though does a couple of minor blemishes on the sea.Housed within a period gilt frame,it is ready to hang and needs a new home.Image size 16x11ins.Frame size 24x19ins. A nice painting.
---
According to artprice.com (www.artistsearch.com or web.artprice.com) the following George Oyston paintings have been sold recently. (If you want to know the prices, you will have to register with them, and pay a fee):

Date  Title  Dated  Size cm (in)  Medium  
17 Feb 2003  Haymaking     23x52  Watercolour  
10 Dec 2002  Near Crediton, on the Credy, N.Devon  1909  35.2x52.5  Watercolour/paper  
30 Oct 2002  Sussex Downland Scene with sheep     33x45.7  Watercolour/paper  
11 Oct 2002  Sheep grazing on Rolling Hills  1914  28x45  Watercolour  
01 Oct 2002  Near Crediton, on the Credy  1909  35.2x52.5  Watercolour/paper  
29 Aug 2002  «Little Marlow»     26.9x35.6  Watercolour/paper  
31 Jul 2002  Landscapes with Thatched Cottages and Figures     25.4x35.6  Watercolour/paper  
23 Jul 2002  River Landscape, near Guildford, Surrey     37x52  Watercolour/paper  
23 Jul 2002  At Shalford, Near Guildford, Surrey  1929  25x35.5  Watercolour, gouache/paper  
20 Jun 2002  Near Wansborough, Guildford, Surrey     17.8x25.9  Watercolour/paper 
14 Jun 2002  Bridge over the River     20.3x12.7  Gouache/paper  
14 Jun 2002  «Limpsfield Common, Surrey»  1916  27.9x40.6  Watercolour/paper  
14 Jun 2002  River Landscape with Figure in Boat     22.9x33  Watercolour/paper  
21 May 2002  Figures by a Cottage at Sunset     14x15.8  Watercolour/paper  
23 Apr 2002  Sheep in Moorland Landscape  1919  35x48  Watercolour/paper  
18 Apr 2002  Landscape with Punt on a Pool     33x53.3  Watercolour/paper  
26 Feb 2002  Dingy Sailing     26.5x17.5  Watercolour/paper  
15 Feb 2002  Sheep grazing by a Riverside at Sunset  1910  17.8x22.9  Watercolour/paper  
15 Feb 2002  Tranquil River Landscape     17.8x25.4  Watercolour/paper  
15 Feb 2002  Two Figures in a Village Street  1923  15.2x22.9  Watercolour/paper  
14 Feb 2002  Coastal scene  1895  21.3x34  Watercolour/paper  
31 Jan 2002  Harbour Scene with Rowing and Sailing Boats     36.6x53.3  Watercolour/paper  
09 Jan 2002  River Scene with Fisherman  1929  26x35.5  Watercolour/paper  
04 Jan 2002  Near Pilborough, Surrey/On the Common near Woking, Surrey  1926  26.4x35.6  Watercolour/paper  
14 Dec 2001  Evening and early morning river scenes with sheep and figure in boat     17.8x25.4  Watercolour/paper  
06 Dec 2001  Sussex River landscape     16.8x24.4  Watercolour/paper  
03 Dec 2001  Near Broomfield, Herne Bay, Kent  1905  50x75  Watercolour  
20 Nov 2001  «Waterside, Knaresborough»  1913  34x26.5  Watercolour/paper  
13 Nov 2001  Figures on a Path  1907  22.5x29.5  Watercolour/paper  
05 Oct 2001  Pastoral with Sheep grazing on a meadow at Sunset     17.8x20.3  Watercolour/paper  
Other watercolours by George Oyston: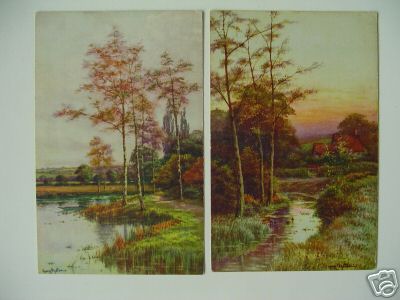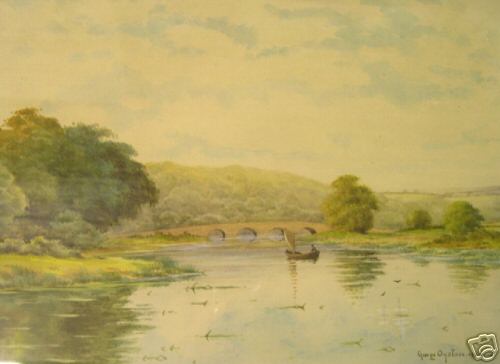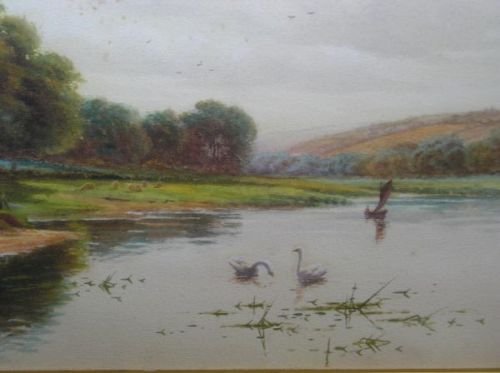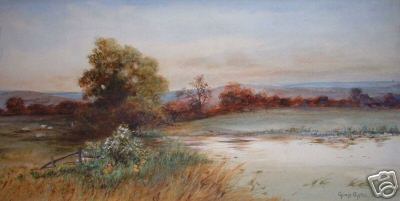 ---
Site by
Revised May 2008
Oyston Home Page