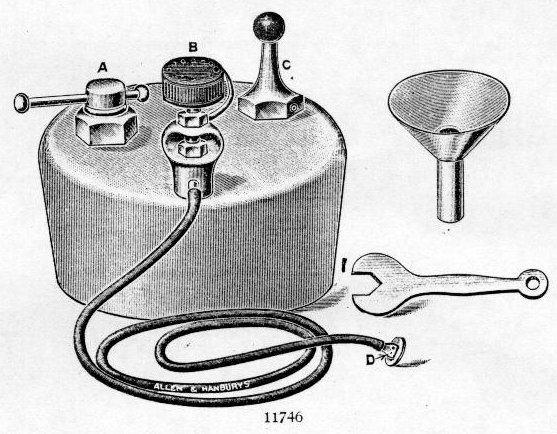 USE OF THE WARM ETHER ďBOMB Ē IN THE OPEN METHOD .

The "bomb" gives a regular flow of warmed vapour which may be directed into lint, into a bag. in conjunction with a gas and oxygen apparatus, with air into the trachea through the nose into the naso-pharynx for dental work, or into the rectum.

Pass the small attachment (D) through two thicknesses of lint and secure with a safety pin. On the frame (e.g. Schimmelbuschís, or a similar type), first place a thin layer of gauze, to prevent dripping or spraying from the orifice of the metal mount, and over this the two thicknesses of lint. Attach the tubing from the bomb to the fitment. Use a face pad beneath the frame.

Place the bomb in a large bowl of boiling water.

To induce, open the valve very slowly, and gradually increase the amount to 15, 20, 25, 30, or even 40 on the dial, according to the patient. It will be found that after the induction appears complete the opening will have to remain at 15 or 20 for some little time (5 or 10 minutes). For maintenance, however, most patients take the valve open at about the 8, 9, or 10 graduations, and no further alteration will be needed until the advent of fresh boiling water.

When the hand can be borne comfortably in the water, pour in fresh boiling water. At the same time shut the valve down to half of what it was (as owing to increased pressure, the patient must not get more vapour).

The various openings of the valve mentioned vary a little in each individual apparatus.

Until well accustomed to using the apparatus, it is better to refill it before every case.