Anesthesiologist:
I work at The Scarborough Hospital, a large public general hospital in an eastern suburb of Toronto., where I was at one time Chief of Anesthesiology and Vice President of the Medical Staff Association.
I have written a number of scientific articles about anesthesiology, including web site reviews for "Anesthesiology" and participated in collaborations such as GASNet and the Virtual Anesthesia Textbook.
I have worked as an anesthesiologist in New Zealand, the UK, Canada, Rwanda and Ethiopia.
I am an Assistant Professor at the University of Toronto and an assessor for the College of Physicians and Surgeons of Ontario.
Traveler and photographer:
My parents were in the Royal Air Force, so I moved to Aden (in what is now Yemen) when I was six months old, and lived in Germany from the age of 8 to 11. That seems to have led to an insatiable curiosity about the world. I met my wife on a rail tour of the Soviet Union. My tastes run mainly to cool and mountainous areas: Iceland, Ireland, Nepal, New Zealand, Patagonia, and the Antarctic, but I do not turn down the opportunity to go to Bermuda or Djibouti.
Many of my pictures (of Antarctica, Arizona, Bermuda, Ethiopia, Ireland, Quebec, Cuba, The Netherlands, and of native plants) are on Flickr.
Environmentalist and Landowner:
I can still remember being taught the word environment when I was about eight or nine years old. In High School I challenged a visiting professor who argued that as long as we build chimneys high enough, we can pollute as much as we like. I got the opportunity to put my beliefs into action when we purchased Oak Hills Farm, a 101 acre property south of Peterborough, Ontario. After much thought about the most responsible way to use this extraordinary opportunity, I created a three acre tall grass prairie, a 120-species arboretum, and planted about 5,000 native trees. I was on the board of the North American Native Plant Society for four years, and served is its Vice-President.
Netizen:
I grew up in a world without the internet. That time now seems as remote as the dark ages. I am concerned about what the internet is doing to our children, but it is an amazing playground and resource for adults.I use it voraciously, and try to do my bit by contributing to sites such as Wikipedia and Trip Advisor.
Social Media:
Change.org petition:

Protect Canadian Teens from Tobacco: Raise the Minimum Smoking Age to 21

Please sign and circulate!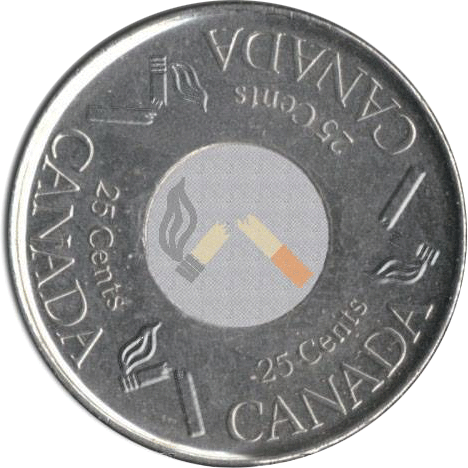 I tried to persuade the mint to create a Quit Quarter to encourage
smoking cessation, but they declined.